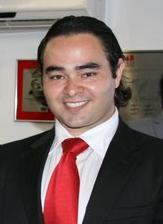 Robson Teixeira Magalhães
Advogado Mestre em Práticas e Políticas da Exportação pela Universidade de Paris V
Membro Efetivo da Comissão de Direito Marítimo da OAB/CE
Possui graduação em direito pela Universidade de Fortaleza, bem como duas Especializações pela mesma universidade e Mestrados nas áreas de comércio internacional e de direito internacional privado pela Universidade de Sorbonne. Advogado, inscrito na Ordem dos Advogados do Brasil, Seção Ceara, sob o número 17.262, atuando profissionalmente entre Fortaleza, São Paulo, Rio de Janeiro e Paris.
Master in Export's Practices and Policies (University of Paris V, Sorbonne Cité).
LL.M. in European and French Law (University of Paris I, Panthéon Sorbonne).
The Hague Academy of International Law.
Years of law practice in Brazil and in Europe.
Avocat au Brésil - OAB 17.262.
LLM en Droit Français et Européen - Université de Paris 1 Panthéon-Sorbonne.
Master en Exportation - Université de Paris V.
Master en Entrepreneuriat - Université de Paris V.
Celular: +55 85 - 99981-0300